Sikorsky is a world leader in the design and manufacture of
advanced helicopters for commercial, industrial, and military
uses.
Hamilton Sustrand technologically advanced aerospace and
industrial products. Their systems can be found in over 90
percent of the world's aircraft.
Dresser-Rand is among the largest global suppliers of rotating
equipment solutions, designing, manufacturing and servicing a
wide range of technologically advanced centrifugal and
reciprocating compressors, steam and gas turbines,
expanders, multiphase turbine separators, portable
ventilators, and control systems.

Pratt & Whitney is a world leader in the design, manufacture,
and support of aircraft engines for military and commercial
aircraft.
Pratt & Whitney Canada is the world's leading producer of
gas turbine engines for corporate jets, commuter aircraft,
and helicopters.
Pratt & Whitney Rocketdyne is the nation's Number One
rocket engine provider.
"Given the opportunity to lead the Geared Turbo Fan team at PWPR, [the PWPR employee]
has responded very well and has provided my group with a sense of comfort in identifying
and providing more work not only for this program but also similar programs in the future."
- Product Definition Chief, Pratt & Whitney
"Pratt & Whitney Puerto Rico has done a fabulous job helping me with the certification of Pratt &
Whitney Middletown CT Production Test Stand P2. It is a Joint Strike Fighter (JSF) F135 program
requirement that this test stand must be certified for F135 testing."
- Engineering Fellow, Pratt & Whitney
"I was very pleased with how quickly the Structures personnel adapted and developed an understanding
of our particular part requirements and provide thorough documentation of their work."
- Customer survey respondent, Pratt & Whitney
"Thanks again for your hard, high-quality work over the past year. Looking forward to a good year to come."
- Customer comment, Hamilton Sundstrand
"As a result of impressive work ethics and performance I will be sending more work to PWPR very shortly."
- Customer survey respondent, Pratt & Whitney
"My IPT has a very difficult task of performing the F135 diffuser case lifing. This is an extremely complex job,
requiring 2D and 3D thermal and structural analysis. Your team stepped right up to work these activities with
great enthusiasm. They fixed thermal and structural models and meshes and corrected boundary conditions.
They have worked very closely with the IPT and attended and contributed to every teleconferenced IPT
meeting. In this letter, I wanted you to know how delighted I am with the PWPR team's performance."
-

Integrated Product Team Leader, Pratt & Whitney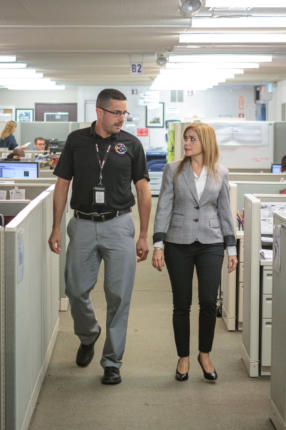 Road 110 North, Km. 28.8, San Antonio Industrial Park, Aguadilla, Puerto Rico 00604
|
Tel. 787-609-4000
Copyright © 2018 Pratt & Whitney Puerto Rico, Inc.